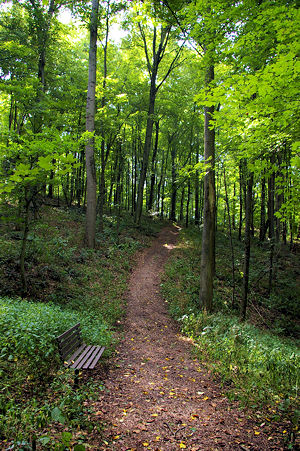 With more than 21 miles of trails over varied and scenic terrain, hiking is one of the major attractions of Tarrywile Park for enthusiasts of all abilities and interests. Six color-coded trails have been developed and mapped with difficulty ratings from moderate to advanced. A beginner can enjoy a leisurely walk in the woods, while the expert hiker can tackle a challenging route over more difficult terrain.
Download Trail Map
Guests are welcome to explore the trails on their own at their own pace. Color-coded trail maps are available on site or can be downloaded here.
The Park participates in the annual celebration of National Trails Day held in June.  Please see Upcoming Events for more information or call the Park office at 203-744-3130.
Tarrywile Park is a key element in the development of the Ives Trail, a greenway that links Danbury, Redding and Ridgefield through an open space network and trail system. Once completed, the Ives Trail will include over 15 miles of continuous multi-purpose trail providing opportunities for hiking, mountain biking and horseback riding.