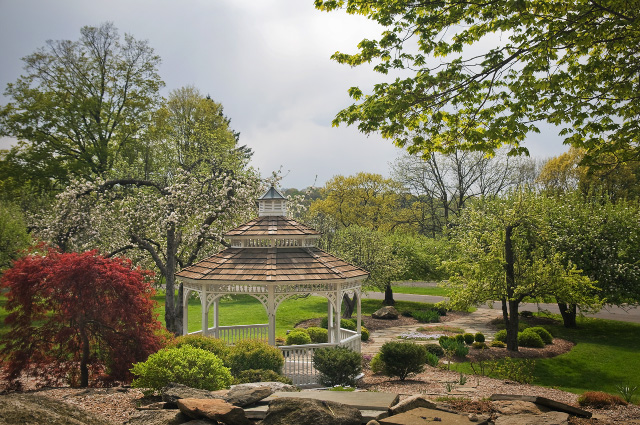 The grounds at Tarrywile reflect the Victorian style of landscaping that combined expansive lawn areas, dramatic use of ornamental trees and bordered flower gardens featuring a variety of perennial and annual flowering plants. The restoration of the gardens in the early 1990's under the direction of the Women's Club of Danbury/New Fairfield captured the essence of the original designs by landscape architect Joseph Fearns for the Parks family. The Authority maintains the flower gardens on the elevated lawn area overlooking the mansion along with the grape arbor located near the original greenhouse built by C.D. Parks. The mature plantings around the mansion foundation and the shrubbery bordering the property's wooded areas contribute to the subtle, naturalistic design.
The original ornamental trees planted by the Wiles and Parks have grown into mature majestic specimens that anchor the impressive landscape in the mansion area and frame the magnificent vistas. The original apple orchard provides a backdrop for one of Tarrywile's popular picnic areas with views of the garden, grape arbor and mansion. In 2004 a meditation garden was added in the area of the gazebo on the rear lawn. A visit to the Tarrywile garden is a delightful and peaceful way to spend a morning or afternoon.
The Hearthstone Castle also featured an historic landscape design in its heyday, featuring beautiful gardens, accent walls and a sparkling goldfish pond. Sadly, the exterior grounds fell into disrepair over time along with the castle structure itself. A prime objective of the Tarrywile Park Master Plan is to restore the gardens and original historic landscape design in the castle area while renovating the castle itself as a three-season pavilion for use for outings, meetings and a museum. The Friends of Tarrywile Park heartily endorses this proposal and is working with the Tarrywile Park Authority to help make this vision a reality.
For more information about the gardens at Tarrywile or the Tarrywile Park Master Plan please visit www.tarrywile.com or call the Tarrywile Park Authority at 203-744-3130.